Visa? Check. Flight? Check. Now what? We've got your covered. Fly to Spain stress-free with our Spain arrival checklist.
I can still remember the feeling: I double- and triple-checked my documents to make sure I had everything I needed. I was anticipating the questions they might ask me during my visa appointment. Getting more and more stressed a day, two days after my visa appointment. Having violent reactions (lol) for not getting my visa after a week when some of the people I came with already received their email notification. Worrying (again) when I received the email notifying me that I could already come and pick up my passport, because what if I was denied?
And, finally, jumping for joy and trying to keep myself from bursting when I finally got my passport with the visa stamped on one of the pages.
It's one of those happy memories that one will keep coming back to, and one will realise that the stress was not worth it.
If you're like me, congratulations! You're halfway there.
Why halfway, you ask? Because when you arrive in Spain, you'll probably be in more stressful situations.
But, I gotchu, fam. Here's a quick checklist of what you will have to do and get once you arrive in Spain.
1. Get a SIM card.
In one of the previous posts, I mentioned that prior to coming to Spain you have to make sure that your phone is not locked with any network, otherwise it may not function here in Spain. Having a Spanish SIM card is important, especially with paperwork like making TIE appointments and opening a bank account.
Personally, I think that in terms of mileage and convenience, Spanish network companies are more competitive than Philippine brands. The best part? You can use the same SIM card to travel around the European Economic Area.
Another awesome thing about Spanish network providers is that you can also get packages, such as Fiber Internet + LTE. Even more, you can buy a prepaid SIM card then convert it to postpaid with no issues, just like I did.
So, which LTE provider should you get?
When I arrived in Spain, I had Republica Móvil. Since then, the company has joined simyo, and I didn't have to do anything except download the simyo app. Yes, I got to keep my number.
For €10 I get 14GB of data and unlimited calls. I didn't avail of the SMS option since most people here communicate through WhatsApp, which needs at least your phone data to work. I can also adjust my data allowance as needed, since I accumulate my unused data up to three months.
Want to earn up to €20 and free data up to 3GB? Send me a PM or comment your email below and I will share with you my phone number that you need to include when you register for a simyo SIM card.
Where can you buy SIM cards?
SIM cards are available at the airport, or places called locutorio or tienda de telefonía. Check Google Maps for shops near you. When you go, bring your passport with you. The attendant will register your number, passport and email. Yep, it's not like in the Philippines where you just show up and pay.
2. Open a bank account.
Having a Spanish bank account (meaning with a Spanish IBAN: International Bank Account Number) is essential, because this is where your comunidad autónoma, program, or the Ministry will deposit your monthly stipend.
Some banks offer perks such as no monthly fees for people under the age of 30.
You can also open your bank account online with just your passport or your NIE (número de identidad de extranjero). That's exactly what I did when I opened an account with N26. You just have to download the app on your phone, provide your details, and undergo a verification process through a video call with one of its associates. They will then deliver your card via standard delivery for free. You also have to make an initial deposit of €20 as part of the verification process.
Opening the N26 Standard digital current account is free, but you have to pay €10 to have a physical card delivered to your address. You have three free withdrawals every month. I've used this account both in Madrid and Valencia as an auxiliar with no issues. As mentioned, N26 provides you with a Spanish IBAN, which you need in order to receive your monthly allowance.
Excited to open your N26 account? Use my invite code and receive euro credits! My personal code is: macherim4551.
One IMPORTANT thing to remember: If you opened your N26 with your passport, you will then need to contact their chat support to have your NIE included as supporting information. In the Valencian Community, you need to submit a bank certificate with your NIE written on the document. Failure to do so may lead to delays in stipend delivery, which was one of the issues Valencia was notorious for.
3. Get an Abono Transporte
Big cities such as Madrid, Valencia, Alicante, Santiago de Compostela, Bilbao and Málaga have impressive and extensive transport systems, and they also offer abono transportes in order to make it affordable for commuters. These abonos offer trips at discounted rates compared to single-journey tickets. Monthly fees depend on the zones you plan to travel to, and sometimes, your age.
In the case of Madrid, they have the abono joven, which allows people under the age of 26 to travel throughout their network of buses, metros, light rail, and suburban trains for €20 a month. This means you can take the Cercanías to go from Zone A (Madrid City) to Zone E2 (parts of Castilla-La Mancha, including Toledo and Guadalajara). If you are over 26, then you have to pay the regular cost for the monthly pass.
Not all cities have metro lines, and some abonos cover only the metro or buses. The best way to check what's available on your comunidad autónoma is to Google "abono transporte + your city".
Big cities also have personalised transport cards, which have your name and photo. You need to make an appointment for the personalised card and pay the appropriate fee. For Madrid, you can go to any customer service office, but you need to make an appointment for that, too. Or in my case, I requested and submitted my documents online, and they sent it to my delivery address.
If you don't think you will be traveling that much because you chose to live close to your school, then you can get a 10-trip card through the ticket machines of any metro line.
4. Secure a place to live in.
September is a beautiful month for landlords, as this is one of the busiest, if not the busiest month. Auxiliares from all over the world arrive around this time and start looking for rooms or entire flats to rent.
You don't have to be in Spain to start looking for places already. One, if you have friends already living in Spain and are in the same city where you're planning to live, then maybe they or their friends have a spare room that they can reserve for you.
Or two, you can already start searching for rooms and flats online. Idealista is the most popular website to look for properties in Spain. Once you're on the homepage, you can choose "Alquilar + Habitación" or "Compartir + Viviendas". Then, enter the city or town where you plan to stay.
The next page will show you the zones or districts, and you just have to select which areas you fancy. The web and app versions may be different, but they yield the same results nonetheless.
Idealista is where I found my room in Madrid.
You can also look for listings on these websites:
Milanuncios.com – this may not work while you're in the Philippines. This is where I found my flat in Valencia.
Airbnb – some people negotiate with their host and they end up renting the room or flat longterm
Spotahome.com – this website takes pride in the fact that their staff personally check the listing, so you can take their word for the quality of the flats.
Facebook – auxiliar and expat groups always have posts advertising rooms or entire flats for rent
Great! I've found a listing or two that I like. What now?
Save the listing under your Favourites, then start contacting the landlord through the app or WhatsApp, depending on their listed preference. Introduce yourself, tell them how long you are planning to rent the property, and schedule a viewing appointment. Don't worry if you don't know Spanish. Feel free to use Google Translate or have a friend translate for you. Once you start visiting places, you can ask a friend who speaks Spanish to come with you in case you have any questions. The most important question to ask is if you could empadronar (register) yourself in the town hall.
Once you like a place, confirm it with your landlord and sign a contract. It's very important to do so, as there are so many landlord nightmare stories that the Facebook group for Auxiliares in Madrid even have a list of bad landlords and properties.
How much do people pay to secure a place?
If it's a private listing, meaning it's the landlord who advertised the place, they usually get 1 month security deposit and 1 month rent. So, prepare to pay for at least 2 month's worth. If it's a listing made by a real estate agency (called inmobiliaria), then they also ask for agency fee, which is equivalent to a month's rent, plus tax. Some listings are posted by your potential roommates, and this is called subletting. Check the contract if that is allowed.
5. Obtain your padrón.
So now you've got a place to stay. Yay! Is it time for the housewarming party? Hmm, not yet. You first need to do the empadronamiento.
The padrón or the certificado de empadronamiento is a document that you receive after registering at the town hall of your residence. Think of this as the equivalent of our certificate of residency in the Philippines. The padrón is free, but you need the following:
Passport – bring a photocopy of the info page and your Spanish visa page. Your NIE may or may not be there
Rental contract – it must have your landlord's DNI (Documento Nacional de Identidad) number and signature, as well as your passport number/NIE with your signature. Make a copy just in case.
Hoja de Padrón Municipal – the registration form. Every municipality has its own form, so Google "hoja padron + your ayuntamiento's name"
Some ayuntamientos require a bill (factura) under your name or a bill under the landlord's name with the address of where you are staying
Do I need to make an appointment for the padrón?
Yes. Even before COVID, appointments were already required in some ayuntamientos. You can make an appointment online (Google "padron cita + your ayuntamiento's name), or by calling their number if you already have a good grasp of Spanish.
For smaller ayuntamientos, you can come to the appointment and have your padrón when you leave, all in the same day. In some places, you have to come back after a day or a week.
Is it necessary to empadronarme?
Yes. First of all, you will need this for your TIE appointment. Some years ago, people were lucky to come to their first TIE appointments without the padrón, using the fact that they just arrived as an excuse. It seems that funcionarios have caught up with this, and turn away people who don't have it. Imagine being in queue for hours (as in the case of the very (in)famous Aluche Comisaría in Madrid), only to be turned away for missing this document. As I always say, bring what's written on the website even if you don't end up needing it.
Second, the padrón is one of your proof of residence in Spain. It's handy if you are planning to stay in Spain even after the auxiliar program. The Consulates also require this if you want to register for the Philippine yellow card.
Finally, the certificado de empadronamiento gives the Spanish government an idea of how many people are living in the ayuntamiento, thereby providing enough budget for public services. That way, you help out the community where you reside.
6. Pay Your TIE Tasa
Before coming to your TIE appointment there is another form that you have to fill out AND PAY, and that is the fee for obtaining the TIE. The right tasa is called Modelo 790 Código 012. Download the form here, fill it out online, save and/or print. You don't need to make a copy, as each page has is designated for an entity. The one that is most important to bring is the "Ejemplar para la Administrador".
Again, it's very important that you have already paid this form before coming to your TIE appointment. It's not uncommon to hear about auxiliares being told to come back and make another appointment because they failed to pay this. You can pay through a teller, though now some banks require that you come with an appointment or line up before 11AM if you don't have one. I've found it more convenient to pay at an ATM, and I've made an updated post about it.
7. TIE Appointment
Congratulations! You're almost done. Now that you have your padrón, you can already come to your TIE appointment. I've already made a post about it, but just to recap:
You can already make a TIE appointment before arriving in Spain, provided that you have a Spanish number. The appointment website now sends a code via SMS to the number you wrote, and you have to enter this code to confirm the appointment.
You have 30 days after your arrival date to make an appointment. It doesn't matter much if your appointment is scheduled past the 30 days. What's important is that you have confirmed an appointment within the 30-day period. For example, you arrived in Spain on 16 September. You have until 16 October to make an appointment. If you found an available date within 30 days, that's great. It's actually early. But, say, you've been trying but the earliest appointment you found on 15 October is for 20 November. That's okay, because the appointment was confirmed on 15 October, which is within the 30-day period.
But what happens if you really can't find an appointment within the 30 days because the website always says there's none? Try other ayuntamientos within your comunidad autónoma or within your province. Or check the Facebook and WhatsApp groups to know when the website usually refreshes to open more appointments.
What do I need for the TIE Appointment?
To recap, you need:
A printed copy of your TIE appointment confirmation – Read this post on how to make an appointment
EX-17 Form – fill out the first two pages and bring 2 copies of each page
Passport – bring the original and bring photocopies of the pages with contents/stamps, especially the page where you have your Spain student visa
Paid Tasa Modelo 790 Código 012 – Fill this out online, print, and pay through a teller or an ATM. Make sure you have the stamp or receipt of payment for the appointment.
Certificado de empadronamiento – mentioned above
Passport-size photo – also known as foto de carnet in Spain
Carta de nombramiento – as proof of your reason for obtaining the card
Newbie or not, the TIE appointment must be done in-person. This appointment is called the toma de huellas, and in this appointment they will literally "take your fingerprints".
7. Get your Delitos Certificate
On the first day of the program you need to present the Certificado de Delitos de Naturaleza Sexual to your school. It's a document that is required for people who are working with minors, such as auxiliares de conversación. The document is free, and all you need to bring is: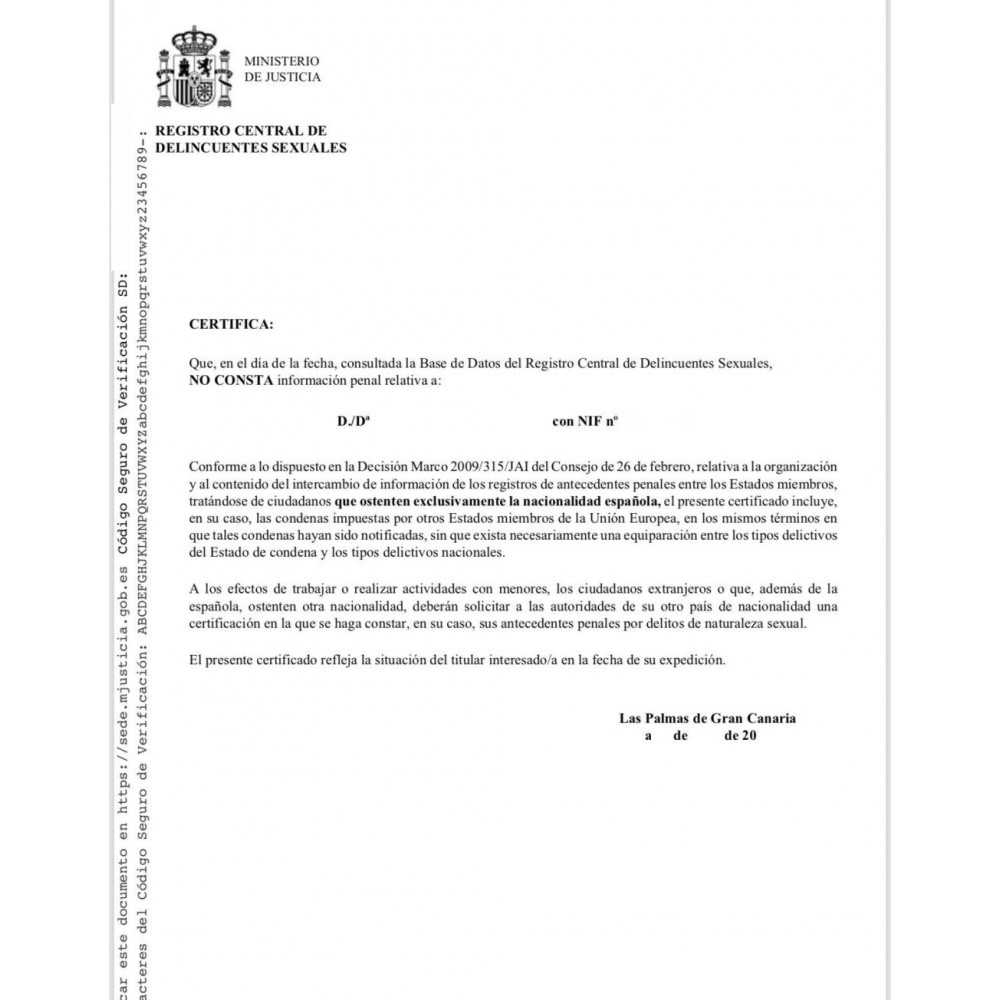 In Madrid, you can get it by making an appointment at the Ministerio de Justicia on Calle Bolsa, 8. It's a few minutes' walk from Puerta del Sol. For the rest of Spain, go to this website, and choose the judicial territory that covers your province. You can obtain this appointment on the same day.
8. Visit your School
By now you should have already gotten in touch with your school to introduce yourself. This should ideally be done as soon as you receive your carta de nombramiento. Don't worry if you haven't heard from them over the summer holidays, as Spaniards really value vacation time and don't want to bother with responding to emails. If that happened to you, just send another email around September. If that still doesn't work, call your school and ask for the English coordinator for auxiliar de conversación.
I highly recommend visiting the school first so that you have an idea about the commute time, plus you can already have a feel of the people you will be working with, in particular the school director (they don't call it school principal here), the coordinator, and the teachers you are going to assist for the school year. This is also a great time to speak to your coordinator about your schedule, or ask for assistance in looking for accommodation, especially if you were assigned in a pueblo far from the city.
==========
Do you have any other thing to add to this Spain arrival checklist? Let us know in the comments below! CM